Set List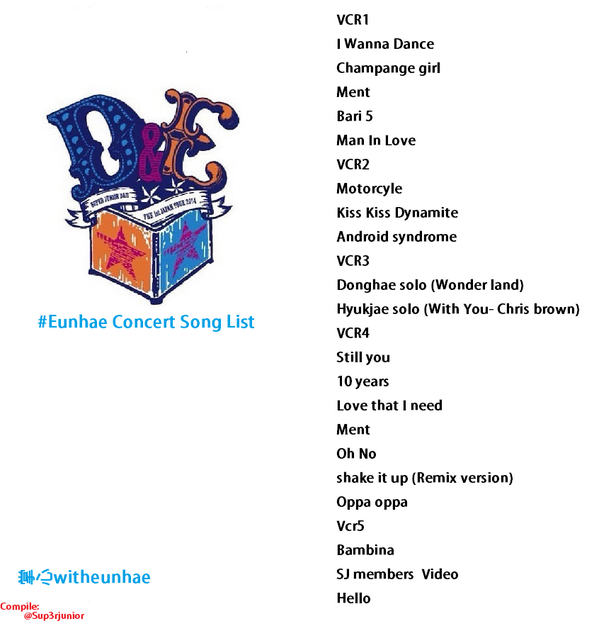 cr: witheunhae via Sup3rJunior
Fan Accounts (note not in order)
cr: witheunhae
Donghae solo – in denim vest, is a new song, has dance, has lyrics containing words like 'baby my love'
kiss kiss dynamite the cheoro is kissing fingers cheoro (via eunhaebemine)
Blur hae danced wrongly but went back to his position
IWD donghae wearing white jacket & black spots, hyukjae in black jacket & white spots, both in black & white pants (via mish_shellx)
hyukjae asked donghae what was the next song and donghae said "mr simple" and sang a short part. then they performed bari 5, wearing the new clothes seen in MV and was holding water guns and aiming at the fans (via mish_shellx)
donghae ran to upper stage and hyukjae stayed on the lower stage opened his arms and waited for donghae to jump (via mish_shellx)
hyukjae: it is the first time we hold a concert so we are very nervous, did everyone buy the album? which song did you like? hello? mr simple? there isn't mr. simple !! donghae what song did you like?
donghae: huh ??
hyukjae: this mood…. (via mish_shellx)
eunhae asked if everyone was tired then said they were tired then said they will tell everyone something they dont know… (via mish_shellx)
hyukjae: today is the first day, if there are any mistakes, please do not worry (via mish_shellx)
kiss kiss dynamite – hyukjae in red, donghae with grey shirt and white pants, both their jackets had accessories on the chest on the right side  (via mish_shellx)
During "Love that i need" Hae took a D&E lightstick and pretend to hit hyuk! (via 亲亲赫宰_StillEunHaeOppa)
[韩希羽0604] via mish_shellx
VCR was of eunhae protecting a treasure chest and fighting off other people
donghae: I am the D in DE donghae! hyukjae: I am the E in DE eunhyuk!!
D&E: we feels hot because everyone is very passionate, can we strip? D: today we take off clothes, tomorrow we take off pants
champagne girl had a club feel to it, there were 2 female dancers, holding champagne glasses, hyukjae had a red scarf tied around his wrist, donghae's scarf was on his belt
At the end, eunhae were holding hands on the stage and bowing, then hugging each other ♡
hyukjae: to describe the feel of nagoya, let me use the most recently learnt japanese to describe it – "the phone cannot be connected right now"
Luna appear onscreen but her lips and the song doesnt sync properly, eunhae saw it and laughed
ten years – eunhae were sitting on separate ends of the stage then stage moved them closer and hyukjae stretched his hand out to donghae and donghae kept touching hyukjae's palms
what will we do with everyone after 10 years, everyone yelled marriage then hyukjae said he will marry everyone after 10 years, donghae said he will be everyone's boyfriend
hyukjae: during rehearsals we prepared a lot of 'good' photos of each other to present
donghae said he prepared a lot of never seen before pictures of hyukjae and will show everyone after the tour ends~
hyukjae showed the picture of donghae with no eyebrows again LMAO
hyukjae: yesterday someone from korea sent me a funny picture of donghae, so we will show it tomorrow~ a hint is that the photo was during one of our holidays, so other members are present as well
hyukjae: today's concert finished bye!
donghae: bye!
*hyukjae ran away*
donghae: now it's my own concert!
fans: ah !!!!
donghae: sorry, maybe next time! *also runs away*
donghae: i will make everyone a promise in my heart. these 2 months, we will study japanese very hard, and will uses phrases that everyone has not heard of before to express our thoughts
hyukjae: on 120101, me and donghae said this line
donghae: what was it?
In 2012, we came back from china, and decided to look at the sunrise together, then we said, if we were to hold a concert, then we would show everyone this video we took at that time
@ ponzu122: via reio66
*Bikkuri = surprise, Atama = head
Not sure how to translate it~ lol
the Japanese words that Eunhyuk recently remember is, "I can't answer the phone right now. Please leave your message and your name after that beep, BEEEEEP!!!!"
*in short the words that he recently remembered is the words from the answering machine~ xDD
[trans] (D&E concert 3/14) Donghae who was to,d to use Nagoya dialect.
Donghae: " *i am reaaaaaaally happy that everyone came."
Eunhyuk: "where is the nagoya dialect?"
Donghae: "happy~!"
*hae tried using nagoya dialect in expressing his happiness~ xD
[trans] (D&E concert 3/14) after the ballad, donghae said "why are you good at singing?
Eunhyuk: "It's because I am the main vocal of Super Junior!!"
Donghae: "Me too!!"
"When you say it, the dream will come true"
Thank you for the nice words.
"We can do it in Tokyo Dome! Let's work hard!!"
NT : this post will be updated as I get more time to look up fan accounts !!
Post by Princess V ~ (the resident avid eunhae shipper that will do her best to update about the concert!)